Milwaukee Chiropractic Care for Whiplash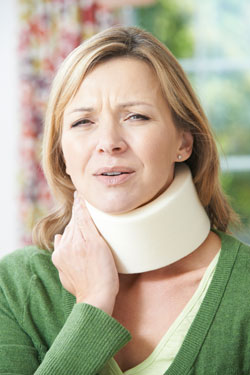 Even in relatively low speed car accidents, tremendous amounts of force are generated to the spine, often disrupting supporting soft tissue and affecting the normal range of motion of your spine. The goal in most cases of whiplash is to reduce the soft tissue inflammation and spasms often present, using modalities such as Ultrasound and electric stimulation as well as restoring normal range of motion with light spinal manipulation.
Stages of Milwaukee Chiropractic Whiplash Treatment
Dr. Koch, your Milwaukee Chiropractor, will work through a treatment plan to best suit your specific case of whiplash. Depending on your case, he will most likely start with various therapy modalities such as an ultrasound, and gentle stretching or manual therapy techniques. During this phase, it may also be suggested you apply an ice pack to your neck or use a light neck support for a short period of time to prevent further damage and help with the healing process. Once Dr. Koch determines it is appropriate, he will then perform gentle spinal manipulation or similar techniques in order to restore your spine and neck's normal motion.

Whiplash Treatment for Athletes
Dr. Koch has provided whiplash chiropractic treatment services for people of all ages. We commonly see athletes come into our clinic with injuries like whiplash. These injuries are caused by sudden severe jerking of the neck, often associated with football and other high contact sports. Common symptoms include vertigo, memory problems, fatigue, ringing of the ears and shoulder or leg pain. Our Milwaukee whiplash treatment services are provided with the utmost care to improve your muscles and joints to optimal functionality.
We will evaluate your neck injury and provide a customized chiropractic plan to help you get back on track faster. Our whiplash treatment will significantly reduce muscle spasms and soft tissue inflammation, allowing you to return to your athletic activities sooner. We will also provide massage and ice/heat therapy for pain relief. If you feel stiffness of the neck from a sports accident or any other traumatic event, set up an appointment with Koch Chiropractic in Milwaukee right away.
Tell us what hurts... call Koch Chiropractic at 414.483.1060 to schedule your Chiropractic appointment for pain associated with whiplash today and take the first step towards successful pain relief.