Milwaukee Chiropractic Services for Herniated Discs
Up to 90% of all disc-related pain can be resolved without any invasive therapy (surgery) or the use of narcotics. Chiropractic Care may help with your herniated disc. The first step in your pain relief is proper diagnosis. Some common symptoms of a herniated disc can include back pain, leg pain, substantial weakness in the legs and the abnormal functioning of your lower extremities. Not all herniated discs cause pain. Symptoms are only experienced when the bulge of your disc places pressure on your exiting spinal nerve. Dr. Koch has years of experience diagnosing and helping to relieve the pain and discomfort caused by herniated discs, realigning your spine and fixing the problem rather than masking it. Contact us for relief!
Milwaukee Chiropractic Treatment Can Fix Your Herniated Disc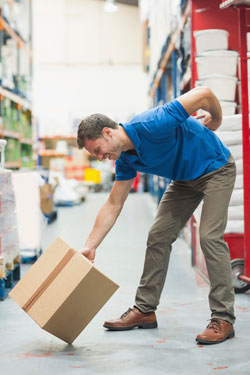 It is a good idea to see a Milwaukee Chiropractor before you agree to back surgery for a herniated disc. Surgery is not always necessary, and is not always completely successful. Chiropractic care is less invasive and may help to fix the problem without surgery. Chiropractors are trained and experienced in locating subluxations (when one or more of the bones of your spine move out of position often causing a herniated disc) and reducing or correcting them. Dr. Koch will perform gentle Chiropractic Adjustments to help realign your spine and reduce your pain.
Koch Chiropractic Helps Prevent Herniated Discs in Milwaukee
While discs naturally break down due to normal wear and tear, a number of factors can increase the occurrence of ruptured, slipped or herniated discs. Sitting too long and failing to exercise can put stress on discs, causing them to herniate. Repetitive motions and improper lifting techniques strain discs and contribute to unexpected disc herniation. Milwaukee's Koch Chiropractic offers precise chiropractic adjustments to eliminate herniated disc pain now. Dr. Koch will also advise you on lifestyle changes to prevent future herniated discs and live a better, healthier life.
Herniated Disc Treatment for Athletes
Vigorous twisting, turning, and heavy bodily impact can put heavy stress on the spine, injuring even the strongest athletes. Some do not feel any pain when they get a herniated disc, while others feel pain, numbness, or weakness depending on where the problem occurred. Athletes usually get herniated discs on the lower back, which causes numbness, pain, or weakness in the calf or thighs. Others may have the problem in their neck and feel pain or numbness in their arm.
Koch Chiropractic in Milwaukee is very experienced in treating herniated discs, and will help you get back to your regular activities in no time. Once you set up an appointment, we will evaluate your spine. If we determine you have a herniated disc, we will develop spinal manipulation and exercise plan which will ease your symptoms. Treatments we offer include spinal adjustments, spinal massage therapy, and spinal decompression therapy. Don't ignore the pain and risk getting removed from your team; call Dr. Koch for athletic herniated disc treatment today.
Koch chiropractic provides herniated disc relief throughout Southeast Wisconsin, including: Tippecanoe, St. Francis, Bay View, Oak Creek, Milwaukee, Cudahy, Greendale, Wauwatosa, Hales Corners & Greenfield.
Tell us what hurts... Schedule your Cherniated hiropractic appointment for your herniated disc today and take the first step towards successful pain relief.