Milwaukee Chiropractic Care for Extremity Manipulation
Experienced Extremity Pain Chiropractor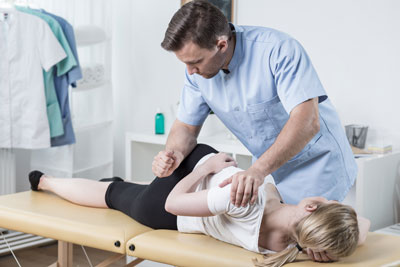 There is a common misconception that Chiropractic Care only deals with your neck and back. Your vertebrae aren't the only things able to lose proper alignment. Extremities such as your elbow, wrist, hand, hip, knee, ankle and feet can become misaligned as well. Joint manipulation or chiropractic extremity adjustments are geared to restore the normal motion to the joints of your extremities, relax your tightened muscles, improve your coordination and inhibit pain.
Koch Chiropractic provides the most relief with years of experience in chiropractic care throughout the Milwaukee area. Dr. Koch's extremity manipulation treatments will help you live a pain free life faster than you'll imagine. Get knee, hand, wrist, or ankle chiropractor pain relief for your tight elbows and ankles or sore wrists with as little as one visit depending on the extent of your situation. Treatments we offer include extremity massage therapy, physical exams, and spinal decompression therapy.
Extremity Pain Causes
Aging and overuse of these body parts highly contributes to extremity pain. You don't need to suffer through extremity pain any longer with Koch Chiropractic's upper and lower extremity alignment services in Milwaukee. Whether you suffer from upper extremity pain, lower extremity pain or both, we will find the right solution for you.
Lower Extremity Pain from Running and Other Strenuous Activities
Lower extremity pain is mainly categorized by leg, hip, knee and foot pain. Some people have lower extremity pain from childhood, while others develop it later in life. Common causes include:
Severe traumatic injuries - lower body fractures and knee replacement surgeries
Infections
Diseases - arthritis
Constant, repetitive movements
Improper running techniques
Dr. Ken Koch is an experienced runner who is fully equipped with the proper skills to help treat running injuries and provide advice to prevent leg, knee, foot and ankle pain from occurring in the future.
Upper Extremity Pain from Typing, Heavy Lifting and Arthritis
Upper extremity pain occurs with joints and muscles which move or are attached to the hands, shoulder blade, arms and wrist. Most patients with upper extremity pain suffer shoulder and wrist pain due to repetitive activities like typing and knitting. Common causes of upper extremity pain include:
Arthritis
Carpal tunnel syndrome
Cubital tunnel syndrome
Tendon injuries in the arms
If you have unexplained muscle pain in arms and legs or are feeling numbness, tingling, or weakness when moving your arms, hands, or legs, don't hesitate to make an appointment with Koch Chiropractic in Milwaukee for an evaluation.
Pain Relief with Koch Chiropractic in Cudahy
Dr. Koch is experienced in extremity manipulation, neck pain relief and back pain chiropractic care, and can help you get the results you've been looking for. If you're experiencing hip, leg, knee, etc. pain, making it impossible to perform your daily routine, talk to Dr. Koch about extremity adjustments or manipulation. Dr. Koch is sure to be gentle, never forcing an adjustment, and he will work with you until you find the solution.
Koch chiropractic provides extremity relief throughout Southeast Wisconsin, including: Tippecanoe, St. Francis, Bay View, Oak Creek, Milwaukee, Cudahy, Greendale, Wauwatosa, & Greenfield.
Tell us what hurts... Schedule your upper or lower extremity pain Chiropractic appointment today and take the first step towards successful pain relief.